Vi er kommet til Marokko, udbrød Lisa tørt da vi havde kørt nogle få km i Albanien. Og ja, efter at have erklæret
Europa en smule forudsigeligt og kedeligt, så virkede Albanien lidt som
Marokko. Gamle Mercedeser, en umiskendlig lugt af affald, husdyr og bål, samt
temmelig mange mennesker og dyr på vejene.
Den sydlige del af
Albanien byder på utrolig smuk natur. Vi tog en gåtur i Vlorë, hvor Lisa ville
købe en taske, i forretningen mødte vi Visa på 23. Hun var meget interesseret i
hvad vi var for nogle folk og hvordan Danmark virkede, det gjorde indtryk at
høre hendes historie og om hvor fattigt landet er. Hun fortalte at hun drømmer
om at få råd til at flygte illegalt til England, måske gemt i et bagagerum. Det
er svært at forstå for et par forkælede Danskere som os at man kan have det
sådan med sit land.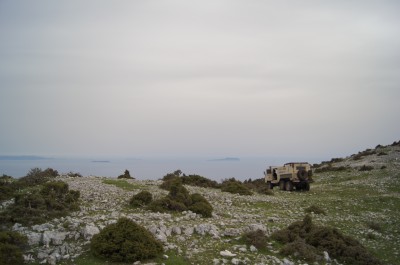 Der er mange
bunkers gemt i landskabet rundt omkring, denne var ved vores overnatningsted på
Mount Cika i 1100 meters højde, skøn udsigt.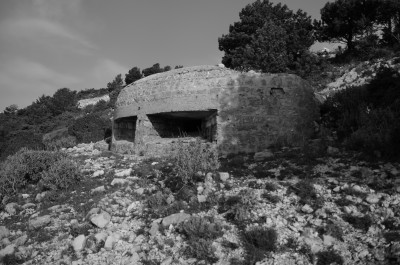 English:
We are
back in Morocco, was Lisas comment when we had driven a few kms in Albania. And
yes, after we have declared Europe a bit too predictable and boring, then
Albania reminds us a little about Morocco. Old Mercedes cars, a distinct smell
of garbage, animals and fire, plus a lot of people and animals on the roads.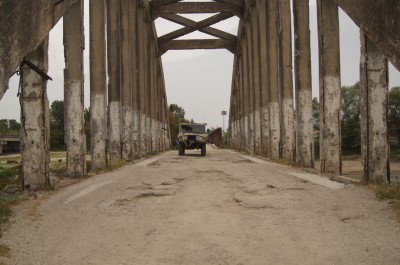 The
southern part is very beautiful. We took a walk in Vlorë, where Lisa wanted to
buy a handbag. In the store we met a 23 year old girl, Visa, she was very
interested in us and Denmark, and it was touching to hear her story about how
poor the country is. She told us that she is dreaming of fleeing to England,
maybe hidden in a trunk of a car, to start a new life. It's hard to understand
for two spoiled Danes…
There is
a lot of bunkers hidden in the landscape, this one was at our wildcamp site on
Mount Cika in 1100 m altitude, beautiful view.