Grækenland har
masser af flot natur og lækre sandstrande med azurblåt vand. Vi gik lidt rundt
i Igoumenitsa og fik selvfølgelig Ouzo, Tzatziki og Gyros 🙂
Da vi kom tilbage
til bilen stod der en gut og kiggede, han spurgte om han måtte se den
indvendig. Det viste sig at han var på udkig efter en rejsebil og den faldt
lige i hans smag. Han spurgte om vi ville med hjem til hans familie og spise,
desværre havde vi lige spist, men det kunne da være hyggeligt at få et glas
friskpresset limonade. Vi sprang ind i
hans bil og 5 min efter var vi hjemme ved dem, Christof og Sara havde lige fået
en lille søn, Nicholas. Det viste sig at de er nogle utrolig rare mennesker,
med en dårlig hørelse, så vi endte alligevel med at spise aftensmad ved dem 🙂
Vi fik vendt og drejet hele verdenssituationen, det virker ikke som Grækenland
er helt vilde med Merkel og EU…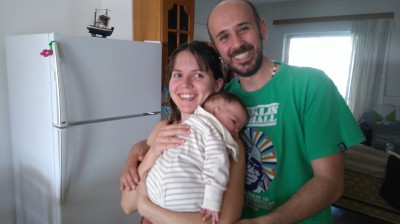 Da vi kørte derfra
var der desværre en turistbus der havde valgt at dobbeltparkere bag os og
Morten overså dens sidespejl da det er så højt monteret at det ikke er at se i
Volvoen spejle. Når plastik møder Volvo, så taber plastik! Det resulterede i en
arrig chauffør og et opkald til Politiet som optog rapport. Vi fik at vide at
vi skulle møde op på politistationen næste morgen.
Christof og Sara
havde givet os anvisninger til en lille bitte strand ca. 30 km sydpå. Den var
svær at finde, vi masede Viola gennem et lille hul i et hegn og kørte meget
stejlt ned gennem en olivenlund, inden vi kom til stranden. Den lå utrolig
smukt i en bugt med bjerge på begge sider og var fuldstændig ugenert.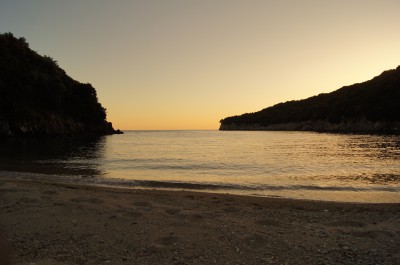 Næste dag kørte vi
til politistationen, men de forklarede os at det da ville tage mindst 3 dage at
renskrive rapporten! Heldigvis fik vi dem overbevist om at sende den til os på
mail.
English:
Greece
has a lot of beautiful nature and nice beaches with blue water. We wandered around
In Igoumenitsa and of course we had Ouzo, Tzatziki and Gyros 🙂
As we
came back to the car, a guy asked if he could see the inside. He told us that
he was looking for an adventure truck and it was just like he wanted it. He
asked if we would join him and his family for dinner, unfortunately we just had
dinner, but we agreed that it would be nice with a glass of fresh lemonade.
We got into his car and 5 min. later we
stopped at their place. Christof and Sara just had a little boy, Nicholas. It
only took a few minutes to realize that they are really nice people, but
hearing impaired, so we ended up having dinner with them 🙂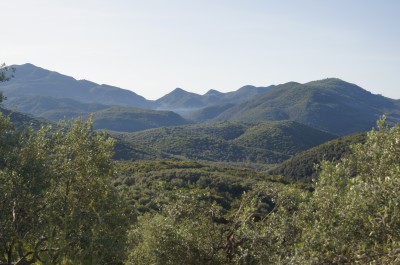 When we
left, a tourist bus had doubleparked behind us, Morten didn't see its mirror as
it was mounted to high to bee seen in the Volvos mirrors. When plastic meets
Volvo, plastic looses! It resulted in an angry bus driver and a call to the
Police. They wrote a report and told us to meet at the Police station the
following morning.
Christof
and Sara gave us directions to a beach, 30 kms south. It was hard to find, we
squeezed Viola through a small gap in the bushes and drove down a steep slope
between olive trees, but there it was. Small and intimate, in a bay with
mountains on both sides.
The next
day we drove to the Policestation, they told us that it would take at least 3
days to type in the report! Luckily we convinced them to send it by mail.