Nå, hvad har vi så lært?
At filmen "Yes Man" ikke har levet forgæves! Flere gange har vi overvejet at sige nej når vi blev budt på te eller mad, men når man nu siger ja, så får man mange flere små, sære oplevelser – og det er for os meget mere mindeværdigt end at have set Eiffeltårnet eller andre typiske turistfælder.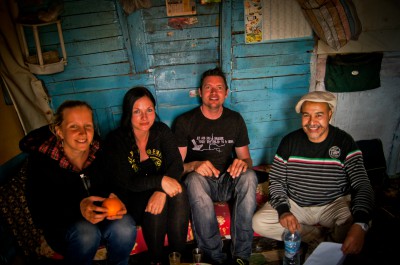 At marokkanerne muligvis er verdens flinkeste folkefærd! Det kræver lidt tilvænning, især fordi vi som danskere har en ret udbredt intimsfære og ikke er vant til at folk rører ved os, medmindre vi kender dem godt. I starten var vi en smule mistroiske og troede at der stak noget under den store gæstfrihed og grænseløse venlighed, men det gjorde der altså ikke.

Det er utroligt at folk der har så lidt, vil gøre så meget for en, hvor vi herhjemme har oplevet kornfede danskere true med politiet fordi vi har camperet på en ubenyttet græsmark!

Væste oplevelser: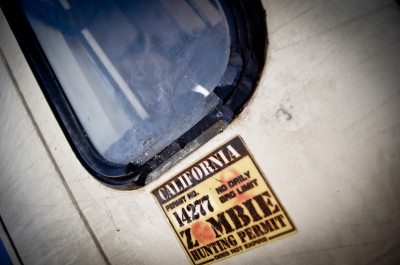 Vi havde indbrud i bilen, mens vi sov i den! Vi camperede på en strand i Marokko, Morten snorksov, men heldigvis opdagede Lisa at der var en arm inde i førekabinen og fik manden jaget på flugt! Det kunne være sket hvor som helst, men alligevel en træls oplevelse! Han havde forsøgt at skære gummilisten af, inden han fik åbnet forreste siderude…

At ikke kunne finde vej i et minefelt i Sahara og "racismen" i de turistprægede byer hvor priserne steg som følge af vores hudfarve, tæller også med på listen…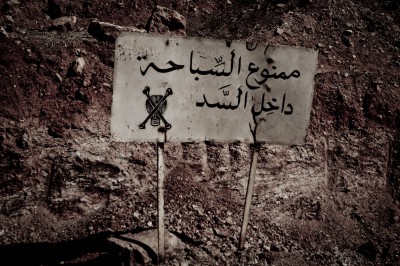 Bedste oplevelser:
At fodre vilde aber i Atlas bjergene og at se vilde kameler langt ude i ørkenen!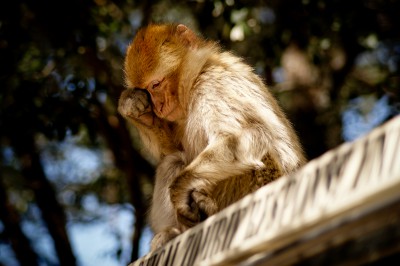 Men alle de mennesker vi har mødt og hørt deres historie er ikke mindre fantastiske minder.

Bilen opførte sig tilnærmelsesvis eksemplarisk, vi har kun haft småproblemer der var nemme at klare, hovedsageligt elektrisk. Vores nye gasblus var virkelig gode og vi har brugt under 1L gas i måneden på trods af at vi har lavet mad hver dag. Omniaovnen virkede perfekt og gav mulighed for langt mere varieret mad. Til gengæld var gasvarmen ikke optimal, den brugte for hurtigt en gasdåse og de var svære at skaffe, så vi svedte ikke ligefrem i sneen! Der kunne et oliefyr nok have været på sin plads hvis man skulle campere meget mere om vinteren.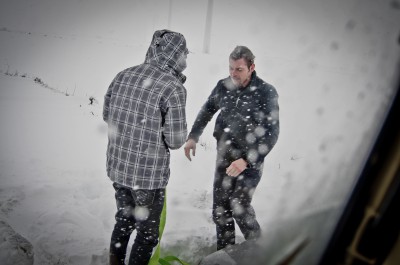 Vi har mødt mange autocampere og adventure campere; fra kæmpe busser med indbyggede biler over 4×4 lastbiler med ATVere til en lille Fiat Panda – og vi vil ikke bytte med nogle af dem! Volvoen har været fantastisk og er stor nok til at man kan bo i den, men samtidig ikke større end at man kan parkere i byen. Den manglende ståhøjde har ikke betydet noget, man vænner sig til at sidde ned og lave mad.
Overraskende hurtigt blev man vant til at bo på så lidt plads og klare sig med så få ting – lidt skræmmende når man som ærkekapitalist opdager hvor meget skrammel man har derhjemme der ikke er brug for! Det var sådan set rart kun at skulle tænke på at skaffe mad, vand og diesel.

Vi har tit drømt om at køre til Sydafrika, men det kunne budgettet ikke bære. Det gør nu egentlig ikke så meget, for os var 3 mdr. meget passende, til at starte med er det spændende at alt er anderledes, men man vænner sig til at vågne til en ny fantastisk udsigt og vi begyndte på et tidspunkt at savne en mere almindelig hverdag.
På http:\\galleri.raredog.dk er der nu en masse billeder i fuld opløsning.
(virker muligvis ikke på mobile enheder)
English:
What have we learnt?
That watching the movie "Yes Man" not was a waste of time! More than once have we considered saying no to people offering us tea or dinner, but when you say yes you get these funny little moments – and to us it is much more worth remembering than seeing the Eiffeltower or another typical monument.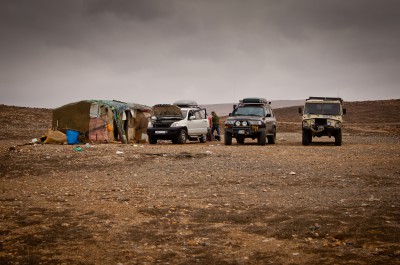 That the Moroccans might be the world's nicest people! It takes some time to get used to them, especially because we Danes has a pretty big intimate sphere and are generally not used to people touching us, unless we know each other pretty well. At the beginning we were somewhat superstitious, but we soon found out that they just are SO friendly to strangers.

It is amazing that people that have so little, will do so much for others, at home we have experienced fat Danes threathening to call the police because we camped at an unused grassfield!

Worst moments:
We had someone breaking in to our car, while we slept in there! We camped on a beach in Morocco, Morten was asleep, but luckily Lisa saw the arm sneaking in to the cab and scared the guy away! It could have happened everywhere, but it was an unpleasant thing none the less. He tried to cut the rubber seal, but then found out how to open the window in the passenger side.

To get lost in a minefield in Sahara and the "racism" in the touristy cities, where the price trippled because of our skin color also belongs to the list…

Best moments:
Handfeeding wild monkeys in the Atlas mountains and see wild camels far out in the desert!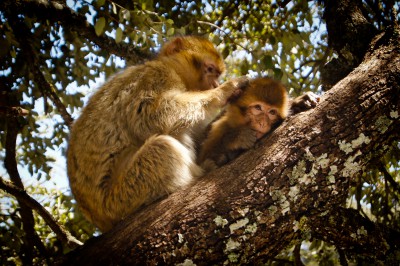 But all the nice people we have met and hearing their stories is at least as memorable.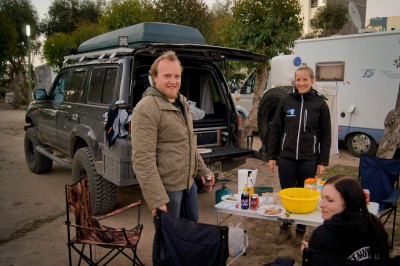 The car behaved nicely, we have only had minor problems that was easy to fix, most of them electrical. Our new gasstove was really good and we used less than 1 Kg gas per month, even though we cooked everyday. The Omniaoven was perfect too, and made it possible to make a lot more varied food.
On the contrary the gas-heater wasn't the best option, it used a gascanister too fast and they where hard to get, so we didn't exactly sweat in the snow! A dieselheater might be a better option for winter camping.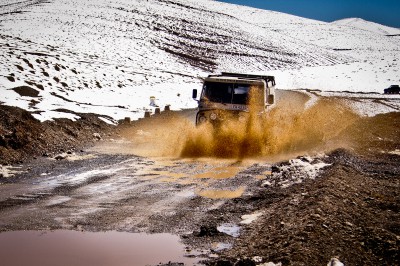 We saw a lot of RVs and adventure campers; from huge busses with build in cars, 4×4 trucks with ATVs and a little Fiat Panda – and we wouldn't swap with either of them! The Volco was fantastic, big enough to live in and small enough to park in the cities. The lack of standing height wasn't a problem at all – you get used to sit down and cook.
Surprinsingly how fast you gets used to live in such a small home with such few things – a bit scary as arch capitalist to discover how much useless things you have at home! It was nice to only worry about getting food, water and diesel.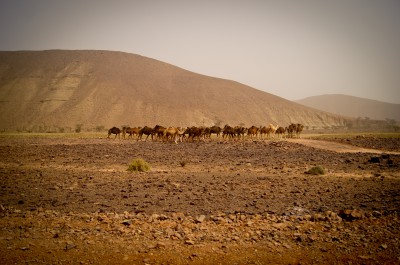 We often dreamt of driving to Southafrica, but could find the money. It actually okay, for us 3 months was fine, in the beggining you are so excited because everything is different, but you get uses to wake up to a new fantastic scenery every day and starts to miss a more normal, stable everyday.
På http:\\galleri.raredog.dk there is a lot of high res pictures.