Batteries are among the most confusing and strange things in the world! They belong right up there with questions regarding time travel, the hen & the egg and where the universe ends!
In the -15c Danish winter we discovered that our batteries weren't that great – Viola would start, but not exactly jumping like a cat.. The voltage was down to 12,2V when they were fully charged. As a former electrician, that seems okay on a 12v System, but no! It shows up that a fully charged battery should be 12,6-12,7V


A 12V battery measuring 12V is considered nearly dead!
Not much else to do, than order new batteries… They are just under 3 years old, and with a 3 year warranty. So I called Tayna batteries in England, but they would not recognise it as under warranty without us shipping them back. As that would be rather expensive and we haven't much time we decided to buy new ones.
As an unexpected cost that feels like shaving some of our trip of

But the thought of the batteries giving up on us in the middle of Sahara was not that good either…
The old ones were Numax XV31MF, dual 110Ah leisure/starer batteries. After a whole lot of reading that don't make much sense, as a leisure battery would be build exact opposite of a starter battery.. (why didn't we read that 3 years ago?!)
A standard 110Ah wet battery will cope with around 50% discharges, more than that the lifetime will be heavily shortened. That means that for our two 110Ah connected in serial (24V) will have about 55Ah capacity, which again equals to about 37 hours running the fridge and nothing else.
That has, until now, been fine as we haven't stayed more that one night at a place.
But now that we will be on a 4 month trip, that might not be enough…
The solution ought to be simple: just buy batteries with more Amps?
Yes, but as it turns out, there is a great difference between wet, AGM and gel batteries. The gel ones are happy, even if the discharge is 80%. That means that a 80Ah gel battery will provide more Amps than a regular 110Ah wet… Confusing!
So we ended up buying two 80Ah Exide ES900 marine gel batteries, the should provide 900W, however that is calculated??! But that means that the fridge will run for 56 hours…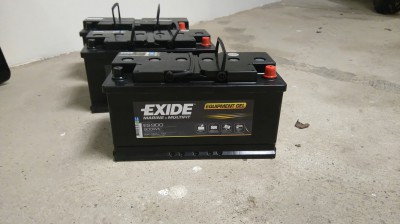 For starting we bought a Enduroline 100Ah AGM Starter battery. To ad further confusion there is also CCA (Cold Cranking Amps) MCA (Marine Cranking Amps) and a lot of other… Bigger and heavier seems to be good in the car battery world, and the new ones are bigger and heavier, so we cross our fingers and hope that they will do the job