Although it is a Alu-Zink, im not keen with driving on salty roads on the way down south, but as it is necessary, i've decided to give the underside some anti-rust/underbody spray:
The belt has been squeaking ever since we bought the car, thanks to the SMT kit provided for the engine conversion. The mount for the generator wasn't aligned properly and our previous attempts to solve this has not made it any better…
So I borrowed a laser guideline, as it is almost impossible to measure anything in the engine compartment.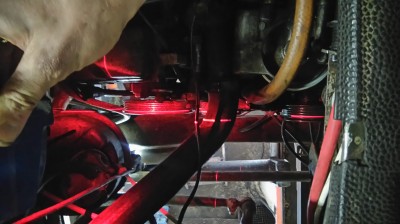 Took 2mm of the mount at what a wonderful sound of nothing 🙂 Before it sounded almost as an old Tiger Panzer on pavement!
Changed the two pulley wheels as the bearings seemed worn.