Grænsen til
Italien: Vi blev vinket ind til siden af politiet. Betjenten kiggede på bilen
og med en meget alvorlig mine sagde han "Hvilken mission er i på?!" Han var
lidt svær at greje, men Morten svarede: "vi jagter zombier" han stod stadig der
med hans stenansigt. Så kiggede han på logoet og sagde: "Credo Elvem Etiam
Vivere? Det er latin?" og Morten forklarede ham at det betyder Jeg tror
Elvis lever – det ændrede stadig ikke på mandens sure pokerfjæs. Han skulle
se alle vores papirer på bilen, forsikring, pas osv. Mens han rodede med det
kom en af soldaterne hen (komplet med riffel, skudsikker vest og alpehue med
fjer) og sagde "bleh bleh bleh change?" Vi var noget forvirrede om manden mente
at der var vagtskifte og vi nu skulle tale med ham eller om han ville have
småpenge, men det forekom ikke som nogen genial idé at begynde at give ham
kontanter, så vi sagde bare at vi ikke forstod ham… Politimanden kom tilbage
med vores papirer og spurgte til vores tur og hvor vi havde været og spurgte så
om vi var Ghostbusters…?! Yes Yes sagde vi og fik lov at køre, først dér gik
det op for os at soldaten nok ville have byttet deres pansrede Iveco LMV med vores
Volvo 🙂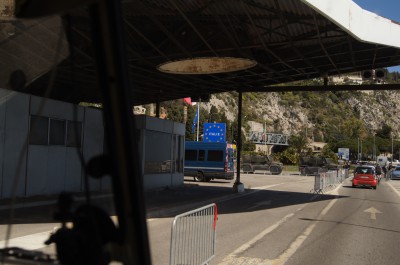 Ting som
spærreflader, parkering forbudt og fuldt optrukne linier synes ikke at have
betydning i Italien, trafikken er temmelig livlig og folk kører stærkt. Men
ellers er folk meget flinke og der er flere der kan lidt Engelsk end i Spanien
og Frankrig.
Endnu engang havde
vi fornøjelsen af at blive stoppet af politiet, denne gang udfærdigede de en længere
rapport og smilede så og sagde at vi skulle køre langsomt – de så ud til at
have regnet ud at vi ikke sådan lige kører for stærkt i dén bil 🙂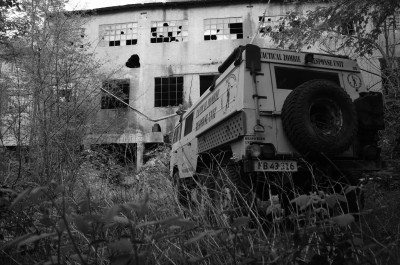 Ikke alle vores camping-steder er i flot natur/not all our camp-sites are in nice nature…
English:
The
Italian border: The police stopped us. The officer looked at the car and with a
very serious face asked "What mission are you on?" It was pretty hard to figure
out if he was making fun or not, but Morten answered "We are hunting zombies"
Stoneface just stood there, then he looked at the logo and said "Credo Elvem
Etiam Vivere? Its latin?" And Morten explained that it means "I think Elvis is
alive" – it didn't make any difference to his pokerface. He wanted all our
papers on the car, insurance and passports. While he looked at them a soldier
came over (with riffle, bulletproof west and a funny hat with a feather in it)
and said "bleh bleh bleh change?" We got a bit unsure if he was stating that
the crew was shifting and we should talk to him from now on or if he was
begging for money, but it didn't seem like a good idea to give him cash, so we
said that we didn't understand. The police officer came back with our papers
and asked about our trip and where we had been and then asked if we was
Ghostbusters…?! We said "yes yes" and was allowed to drive on, just then it
occurred to us that the soldier for fun asked
to trade his armored Iveco with
the Volvo 🙂
Things
as stop signs, overtaking forbidden and no parking seems to have no meaning in
Italy, the traffic is intense and people are driving fast. But the locals are
nice and helpful and more people speaks a little English than in Spain and
France.
Once
again we got stopped by the police, this time they made a longer rapport and
then smiled and said that we should drive slow – they seemed to have understood
that we probably wasn't going to be speeding in that car 🙂